» Gross motor developmental delay
» Spasticity management
» Adaptive equipment needs including orthotics/prosthetics, and mobility equipment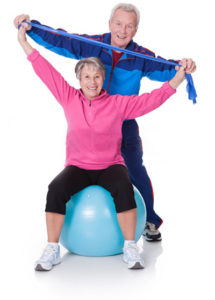 » Balance and coordination issues
» Neuromuscular problems and movement difficulties
» Orthopedic injury/disability and skeletal abnormalities
How Physical Therapy Works
Personalized and effective exercise programs to overcome physical difficulties and limitations
Physical therapy may be an option for individuals with developmental difficulties, ASD, TBI, Dementia, Alzheimer's, Arthritis, and other concerns impacting physical wellness.
The area of concern/delay may be underdevelopment of musculature and neuroanatomy, delayed motor control, weak muscle tone and impaired breathing control. These areas of physical delay limit functional development.
Both young and older children, teens and adults can benefit from a carefully designed exercise program provided by a physical therapist.
As with other therapies, the goals of physical therapy will be determined on an individual basis with the input of parents, physicians, and other members of the treatment team.
Physical therapists can help a child with developmental difficulties learn a variety of age-appropriate motor skills such as throwing, catching, kicking a ball, jumping, hopping, and even riding a bike.
All age groups may benefit from PT in the following areas:
– Problems with respiratory control and coordination
– Improving posture
– Addressing misalignments in the musculoskeletal system, such as chest wall deformities, and foot and ankle misalignments
– Developing fitness programs for individuals of all ages that may include yoga, endurance, strengthening and balance.
A physical therapist is a member of an interdisciplinary team. A physical therapist is an expert in gross motor skills.  As part of a team, a physical therapist ensures that the individual is working towards their maximum potential. 
A physical therapist can provide:
– An assessment of individuals skills to determine gross motor capabilities
– 1 : 1 therapy
– Consultation with other professionals involved in providing services to the individual
Need more information and guidance for your specific concerns? Schedule a live video chat with a Therapist.
Get a Live Video Consultation with a

Physical Therapist
Just book a date with a therapist and submit an interactive online admission form. Our team will carefully select the most qualified professional for your first video consultation.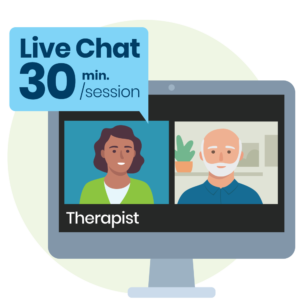 Book now and pay $97 for a 30-minute session.

Teletherapy for Florida Residents
Therapy provided online at the place and time that suits you. Plans as low as $149 a month.