How can Therapy Sessions help children and adults with Learning Disabilities?
Learning disabilities are neurological disabilities that affect information processing. They may affect how a person learns, understands, communicates, and remembers information.
Did you know that although learning disabilities are more commonly identified in children, they can be also acquired later in life?
A person with a Learning Disability may experience problems with reading and/or writing, math, memory, attention, following directions, clumsiness and staying organized. They may feel frustrated that they cannot master a subject despite trying hard, and may act out, act helpless, or withdraw. Learning disabilities can also be present with emotional or behavioral concerns.
At AC&A we offer solutions for patients of all ages with LEARNING DISABILITIES:
–    Whether you believe you (or your loved one) have a Learning Disability or are looking for a second opinion, schedule a Live Video Consultation with one of your Medical Specialists!
–    If you are looking for Evidence Based Customized Therapy Services in the comfort of your home through topnotch Video Conferencing Platform, schedule your Teletherapy Session(s) with one of our highly qualified and experienced Occupational Therapists.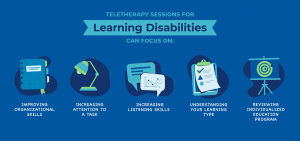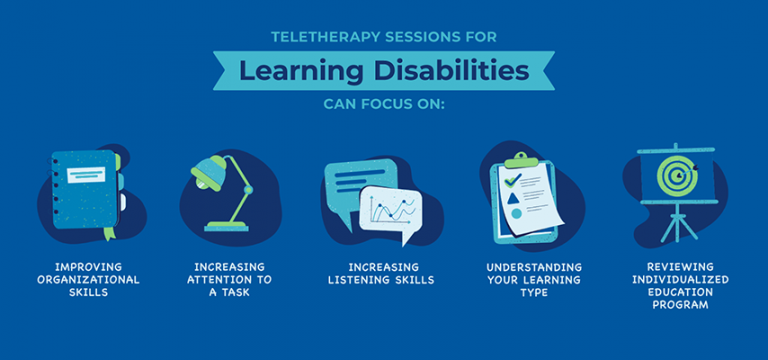 Therapy sessions are customized according to patient's needs from a variety options to focus on:
Improving organizational skills so you can stay focused on different tasks, and use your time, energy, strength, mental capacity, physical space, etc. effectively and efficiently to achieve desired outcomes.
Increasing attention to a task to help increase attention span and improve overall task performance across all environments through different strategies.
Increasing listening skills to receive and interpret messages in the communication process more accurately.
Understanding your learning type – Visual, Auditory or Kinesthetic? – may help find the most effective strategies to increase beneficial outcomes in both natural and learning environments.
Reviewing individualized education program and the appropriate strategies for getting child's needs met to learn more about program of special education instruction, supports and services your child needs to make progress and succeed in a school environment. (*For children with Autism Spectrum Disorder, Learning Disability, Intellectual Disability and Emotional Behavioral Disability who may have an IEP).
Click here to learn more about our Occupation Therapy Sessions.
If you are looking for a diagnosis or any of the options mentioned above, you can schedule a Live Video Consultation and Teletherapy Sessions at www.acandassociates.com .
You can also find us on our Social Media Channels:
We look forward to helping you and your family through your wellness journey!