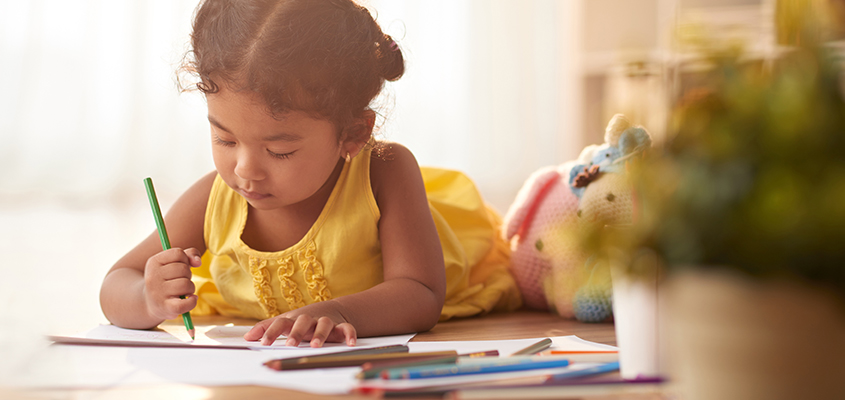 Many children with clinically significant developmental delays are not detected until the first few years of school. Consequently, critical early intervention opportunities for young children who are at-risk of developing problems may be delayed and/or lost.
Every child grows and learns differently; however, children are expected to gain some specific developmental skill sets according to their age.  
What is a DEVELOPMENTAL DELAY?
A developmental delay refers to when a child hasn't achieved some of those developmental skill sets expected according to their age. 
These delays may occur in one or more areas, such as motor function, speech and language, cognitive, social and emotional skills. Different from a developmental disability, such as cerebral palsy or autism, developmental delays may not last for life. Early intervention as in screenings, evaluations, caregiver education, coaching and treatment as needed are possibilities to help children overcome their developmental delays.
What CAUSES Developmental Delays?
Although developmental delays can happen to any child, some factors can contribute to it. Some of them are genetic or hereditary conditions, metabolic disorders, trauma to the brain, PTSD, exposure to toxic substances, infections and food deprivation.
What are the SIGNS of Developmental Delays?

 
Signs may vary from child to child and may be difficult to notice at an early age. However, the earlier a concern is identified, the quicker your child may catch up. Here are some of the most common signs:
Learning slower than other children the same age
Rolling over, sitting up, crawling, or walking much later than developmentally expected
Being clumsy or having difficulty holding onto small objects, tying shoes, or brushing teeth
Trouble learning in school

Trouble understanding social cues or carrying on two-way conversations

Difficulty dealing with frustration or coping with change.

Having problems remembering things
Difficulties talking or talking late
Inability to connect actions with consequences
Difficulty with problem-solving or logical thinking

Your child deserves a chance to reach his or her full potential!
With that in mind, we developed the K-Shield Assisted Screening: A complete assessment that will give an accurate picture of whether your child's development is on track. It is a highly effective way to identify developmental concerns and provide guidance to avoid academic or social school related struggles.


K-Shield is recommended for kids from 36 to 66 months old, and includes:
• Live video consultation
• Pre-evaluation with specialized therapists
• Assistance to parents in applying ASQ 3™ questionnaires
• Documentation results supporting the new Florida's Family Empowerment Scholarship Program
• Recommendation on intervention activities which parents, daycare and preschool staff can use promoting development before starting school
You can learn more about K-SHIELD Screening and choose the best date for scheduling here.
We are here to help you from the beginning!